REFER TEACHERS FOR POSITIONS ABROAD!
Dec 31, 2021
EARN EXTRA WITH WDG!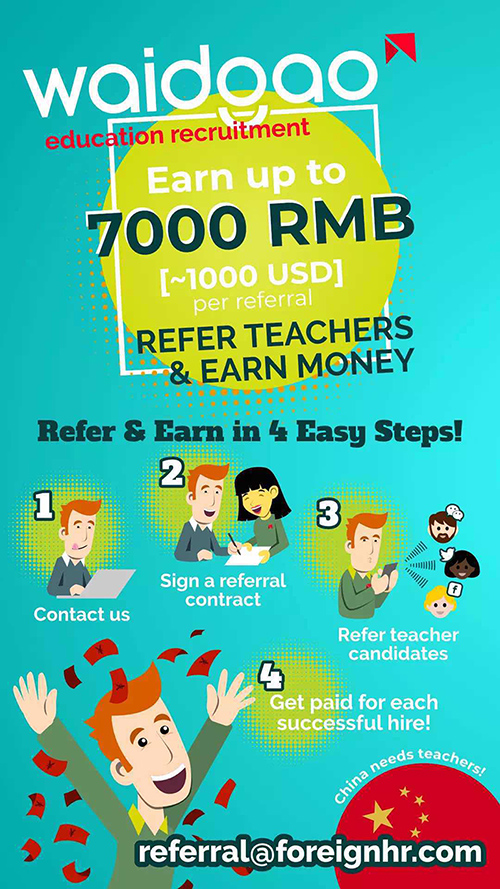 WDG's referral program
Here at WaiDgao(WDG), we have an abundance of employers seeking candidates for their job openings. If you have friends who are looking to work abroad, WDG is looking to help you earn a little extra by helping us fill the positions we have available.
How does it work? We pay you when your referrals sign contracts and complete their initial probationary period with their employer. The more teachers you send, the more you earn! Here's how your referral payments will increase:
| | |
| --- | --- |
| # of Referrals | Referral Commission |
| 1-6 hires | 5,000 RMB or equivalent |
| 7-9 hires | 6,000 RMB or equivalent |
| 10+ hires | 7,000 RMB or equivalent |
Who can participate
Currently, the visa requirements for teachers in China require:
● A passport from a native-English speaking country
● A bachelor's degree or higher
● At least two years of post-graduate work experience
● A clean criminal background
● A medical check
If anyone you know meets this criteria and is interested in working in China, you can earn a referral fee. That's right! If someone you have referred secures a position in China through WDG, you will earn a referral payment from WDG.
How to submit a referral
Helping someone find a job through WDG, then being paid a commission when they are successfully hired is easy! Simply follow these steps:
Take a look at our

referral jobs

and inform your friends/colleagues/contacts that WDG is seeking contacts for them!

Either collect their resumes or have them contact WDG directly (and inform us that they are YOUR referral).

Receive a commission payment after your referral completes their probationary period with their employer!
Why we do it
At WDG we put the candidates first. We also believe that our candidate's success is our own success. We feel that the best way to show how important you are to us is to share our earnings with you. By referring candidates to us, you are helping us grow; it is only fair that we return the favor by helping you (and your bank account) grow as well! For more information, feel free to reach out to us at referral@foreignhr.com.