Business Trip Invitation to East Taihu Lake Resort
Jun 17, 2021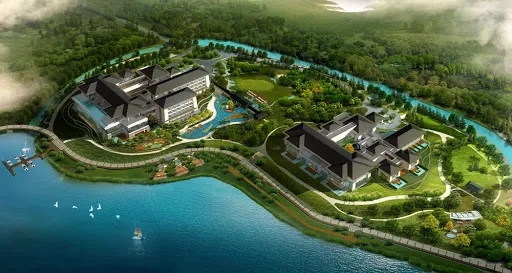 East Taihu Lake Resort, Wujiang, Jiangsu Province, is located on the banks of Suzhou Bay of East Taihu Lake, starting from Suzhou Bay Bridge in the north and Pujiang River source in the south, with a total area of 16.8 square kilometers.
It is a provincial-level eco-tourism resort in Jiangsu Province. With the reputation of "Class I air, class II water", it has eight types of tourism resources including Baili Taihu Lake Scenic Belt, Geothermal Hot Springs, Ecological Wetlands, Modern Agriculture, Water Conservancy Scenery, Wild Animals and Plants, Lake Fresh Food, and Chinese Culture.
The development positioning and goals of the city are: "the biggest highlight of Suzhou city construction in the 21st century", "innovation-driven new engine", "new economic development agglomeration area", "innovation headquarters and modern service industry agglomeration area", and "a demonstration of high-end modern service industry agglomeration".
The city mainly focuses on the digital economy, medical equipment, smart industry, financial service industry, fashion design, lake area economy, and other projects.
Wujiang welcomes overseas entrepreneurs and talents to come to the beautiful Taihu Lake for business development!
China Jobs Daily is organizing a business trip in August to explore Wujiang and visit the local companies and discuss potential cooperation.
The local industries include new materials, iron and steel smelting, education, wire and cable manufacturing, chemical fiber manufacturing, electrical machinery, etc.
If you are interested, please send your application with resume to expert@foreignhr.com, with the subject" Wujiang Trip".